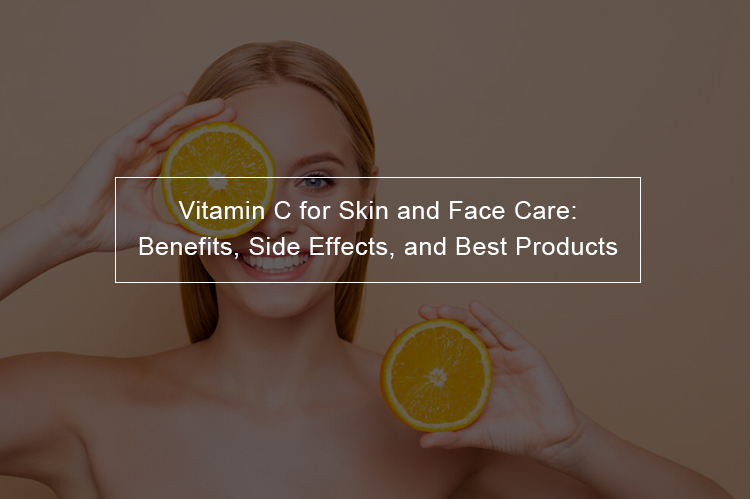 Vitamin C aids in skin's natural regeneration procedure, which assists your body restore destroyed skin. Today vitamin C serums are popular for reversing uneven skin tone, acne scars, rough texture, fine lines, and general dullness. But how does vitamin C work in the skin? Are there brighter, glowing, and smoother results to your skin thanks to the antioxidant properties of Vitamin C? In this article, we will explore vitamin C as a skincare product and the best way to benefit its benefits.
In respect to the Skin, Vitamin C is a potent antioxidant that can neutralize free radicals. Vitamin C assists in the restoration process, which aids to help the human body repair destroyed skin cells because of its antioxidant properties.

Therefore, in the same way, that eating foods rich in antioxidants assist your body in fighting off free radicals; topical antioxidants will assist your skin the same way by getting rid of daily aggressors such as exposure to air pollution and UV damage. A quick refresher course on antioxidants helps prevent damage to our cells by neutralizing the generation of highly reactive molecules referred to as free radicals. Put, antioxidants assist keep our skin and our body healthy.

The free-radical destroying power that Vitamin C power has is not just essential to keep signs of premature aging controlled, but also helps to protect the skin from precancerous changes resulting from UltraViolet rays.
How does vitamin C help the skin?
Benefits of Vitamin C to the Skin
Vitamin skin benefits are not limited to its antioxidant properties. It has many other skin healing properties that make it worth being part of skincare. Below is a breakdown of how Vitamin C benefits your skin.
Vitamin C brightens the skin
Over time the natural and environmental factors cause structural changes in the skin, causing uneven pigmentation. From post-inflammatory hyperpigmentation to age spots, dark spots- vitamin C clear them. Vitamin C stops biochemical reactions that lead to uneven pigmentation to brighten the skin effectively.
Vitamin C can renew the skin's surface. It enhances the production of substances that keep the skin looking firm, assisting in reducing the appearance of fine lines and wrinkles.
Vitamin C enhances the skin's natural defense system
Vitamin C antioxidant properties strengthen the defense system. It helps counteract the effects of oxidative stress and free radicals by neutralizing damaging molecules.
Helps reduce the appearance of under-eye circles
Vitamin C serums can aid smooth out fine lines by plumping and hydrating the area under the eye. Even though Vitamin C is more effective in reducing overall skin redness, some research shows that it can aid reduce discoloration linked with under-eye circles.
Vitamin C is good for most skin types
Most people can use topical vitamin C for an extended period without having any side effects. However, in rare cases, Vitamin C can cause hypersensitive skin to experience minor irritation. The best part is Vitamin C can be used together with other skincare products, including retinols, SPF, and alpha-hydroxy acids.
Vitamin C hydrates the Skin
One of the leading vitamin C derivatives used in skincare products, magnesium ascorbyl phosphate, has been proven to have hydrating effects on the skin. Magnesium ascorbyl phosphate reduces transepidermal water loss enabling your skin to retain moisture better.
Vitamin C prevents skin sagging
Collagen production is linked to skin elasticity and firmness. When your collagen levels start to drop, your skin might begin to sag. Applying a vitamin C serum may enhance collagen production, making the Skintight.
Vitamin C products protect the skin against sun damage
Molecules known as free radicals cause sun damage. These are atoms with a missing electron. Free radicals search for other atoms from which they can take an electron from, and this can cause significant damage to the skin. Vitamin C has antioxidant properties which protect healthy skin cells by providing these free radicals an electron, making them harmless.
Vitamin C soothes sunburns
Besides reducing redness, vitamin C increases cell turnover. This restores the damaged cells with healthy new cells. Even better Vitamin C generally assists boost wound healing. Given its effect on sunburn, it is no surprise Vitamin C speeds up the overall wound healing. Usually, Vitamin C, by providing wound healing, reduces your risk for infection, inflammation, and scarring.
How can you add vitamin C into your daily skincare routine?
The key is not the form in which Vitamin C comes in, but what kind of Vitamin C is being applied to the skin or ingested. Below are ways you can add Vitamin C into your daily skincare routine.
Topical Vitamin C for Skin
Creams or toners. You can combine with vitamin E to increase its efficiency. Pure ascorbic acid has persistently been shown to be the most effective at penetrating the skin barrier — a combination of Vitamin C and E increases protection against free-radical damage.

This is why most often you will find the two antioxidants formulated together in serums. Even though topical Vitamin C is well-tolerated, all skin products can cause side effects. Always carry out a patch test to assess your risk for allergic reaction. This is how to do a skin test:
As a general principle, serums should be applied underneath the moisturizer. Start slowly if this is the first time you are using Vitamin C serum. Vitamin C is potent stuff so that you will require a few drops of each application. You can begin with low concentration and work your way up as your skin becomes more accustomed to the ingredients.

5% Vitamin C serums are generally gentle enough for sensitive skin, and you can go all the way to twenty percent, which will work faster to brighten and enhance skin pigmentation. If you are not applying Vitamin C for the first time, follow the instructions on the product's label for a full application.

Vitamin C serum is applied once or twice per day. First cleanse your skin, tone, apply vitamin C serum, and then moisturize. Even though it can be used together with other active ingredients, it may be less effective with niacinamide. Make sure your product is used by date. In case the product has darkened or changed color, Vitamin C has possibly oxidized. Even though the product is still safe for use, it does not carry the same benefits as standard vitamin C.
Vitamin C provides several health advantages when ingested internally, and equally benefits the skin when applied topically. Taking Vitamin C orally can also improve the effectiveness of sunscreens applied to your skin for protection from the sun's harmful UV rays. Adequate vitamin C intake can also help repair and prevent dry skin.

Because of the prevalence of vitamin C in over-the-counter products, dietary supplements, and foods we consume, deficiency of Vitamin C are rare. If you find you can get enough Vitamin C diet, you can:
Vitamin C tablets for skin
You can use vitamin C tablets, orally, or topically. For oral 1, 000mg is recommended per day. Buy 500 mg or L-ascorbic acid from the drugstore or health shop. The L-ascorbic acid kind of Vitamin C is more effective than the ascorbyl palmitate composition. Depending on the dosage recommended by the doctor, you can take vitamin C supplement 2 to 3 times a day with your meals. You can also take it on an empty stomach, as some studies report that Vitamin C is absorbed better on an empty stomach.

Consult your nutritionist or physician to determine the right Vitamin Cdosage for you. Today liposomal technology is used to enhance the absorption of the nutrients. Liposomal vitamin C provides bioavailability benefits over OTC supplements: the phospholipids it has develops liposomes in the stomach when combined with water. Such liposomes increase the rate of absorption.

You can also dissolve vitamin C in water and apply the mixture on the face. This method is usually preferred by those who like their Vitamin C pure. Buy Vitamin C from the shop and keep it safe from air, sun, and water or anything that makes vitamin C less effective. Clean your face with soap and water, to remove any dirt and impurities. Gently pat your face dry with a clean towel. Then dissolve twenty, 500 mg L-ascorbic acid tablets in 100 ml of distilled water. This builds a 10% concentration of Vitamin C. Topical ascorbic acid solutions should have a concentration of about five and twenty percent, to work effectively.

Immerse a piece of cotton wool in the L-ascorbic acid solution, and gently rub it all across your neck and face. Topical Vitamin C does not require to be washed off, as the skin rapidly absorbs it. It will on being rejuvenating in the skin for up to three days after application. Then place the remaining L-ascorbic acid solution in an opaque container, and store it in the and then use it immediately.

Note if L-ascorbic acid solution turns yellow when dissolved, it has lost its potency. Use it in the refrigerator. For greater efficiency of the Vitamin C tablet solution, only prepare it when needed- morning and evening. In the morning, you can twist open a capsule and add a shot under treatment serums, sunscreens, moisture lotions, before foundation and makeup or dissolve the tablet in water.

In the evening, you can add a Vitamin C does into your favorite moisturizer, or layer below, for the best anti-aging and firming boost.
Does Vitamin C dry out the skin?
Potential risks and side effects of Vitamin C
Vitamin C will not dry your skin; instead, it will combat the effects of dryness and restores your skin moisture. Generally, a serum that includes Hyaluronic acid and Vitamin C can assist retain your skin's moisture to provide you with a natural glow of younger-looking skin.

Vitamin C products do not work for everyone. It can result in allergic reactions in some people. Besides some Vitamin C products may contain ingredients that have no benefit or may be harsh on the skin. The concentration of Vitamin C is a key ingredient for effectiveness.

Note that oxidized Vitamin C may increase the formation of free radicals. Such can harm, irritate, and aggravate the skin, causing allergic reactions, burns, and rashes. Vitamin C products that claim to be highly potent are highly acidic. These behave like an exfoliating product and can be harsh, resulting in adverse reactions and allergies on some skin types.

Even though irritation is unlikely for most, you should always do a patch test before the full application. This is the only way to determine how your skin will react to the serum. And if the skin is especially sensitive, avoid products such as L-ascorbic acid. Products such as magnesium ascorbyl phosphate may be less likely to result in irritation.
What are the best Vitamin C serums and moisturizers available in the market?
Best Vitamin C Products to Use
Vitamin C serum stability is affected by two factors- product packaging and formulation. The following Vitamin C derivatives are made to retain potency for longer:
You should also make sure that the product has a water-free formulation. Also, the bottle should be airtight and opaque. Popular vitamin C serums include:
Tatcha Violet-C brightening serum: This serum is best for dark spots and dullness, it costs about $88.

Sunday Riley C.E.O, Glow Vitamin C and Turmeric face oil: best for fading acne scars and skin lightening. Costs $40.

Voltion Strawberry-C serum: soothes redness and brightens the skin. It also hydrates the skin. It costs $42.

Drunk Elephant C-Firma day serum: Reduces dryness and firm lines and delivers antioxidants to brighten the skin. Even replenishes essential hydration with C-Firma Day Serum and B-Hydra Intensive Hydration Gel. It costs about $23.

Neogen Real Vita C Powder Lemon: In case you ever used a Vitamin C serum, and the color or scent has changed with time, there is a big chance that oxidation was the cause. The best part is Neogen Real Vita C can get rid of it. Mix it with your favorite toner, essence, or moisturizer, for example, ascorbic acid boost. It cost around $20..

SkinCeuticals C E Ferulic: An anti-aging serum which contains Vitamin C and E, it repairs and protects skin from sun damage. It costs $118.99.

PCA Skin C&E advanced: It is an advanced glass skin glow. This serum features vitamins C and E together with complexes and silymarin, which possess brightening and anti-inflammatory properties. It costs $115.

Ordinary Vitamin C suspension 23% plus HA spheres 2%: It comes in 30ml and costs $11. 47.
What do I need to look for in vitamin C serum or moisturizer?
Getting a high quality of Vitamin C to enhance your collagen- without making you red or have an irritation is the key to Vitamin C skincare products. For ideal vitamin C, the first ingredients on the Vitamin C serum should be fifteen to thirty percent vitamin C.

Vitamin C is unstable and will degenerate over time and lose its efficacy. Interacting with light, heat, and airspeeds up tye procedure, which is why the following criteria are Vitamin C serum in an opaque or airtight bottle.

There are various derivatives of Vitamin C, including ascorbic acid, sodium ascorbyl phosphate, and magnesium ascorbyl phosphate and others, so if one product is too irritating, you can always try another product. L-ascorbic acid is one of the most famous forms of vitamin C, and even though it is more unstable than other types of vitamin C, it is also less irritating. Look for Vitamin C serums that have ferulic acid, and helps to stabilize the vitamin and builts an ideal pH level.

Vitamin C serums frequent contain other skin-saving ingredients- if you have lackluster or dry skin, look for a serum that has hyaluronic acid, which is very moisturizing. Besides, hyaluronic acid, the Mad Hippie formula has ferulic acid ( which as discussed can make Vitamin C more stable) and vitamin E.