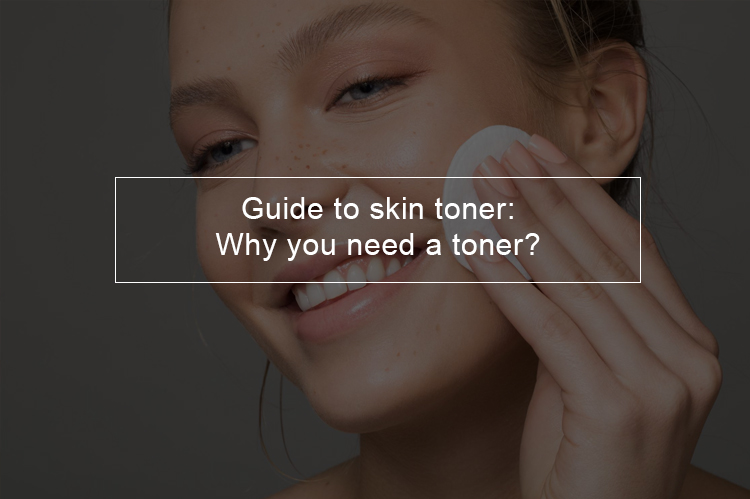 A face toner absorbs in the skin to help remove excess dirt, makeup, and traces of oil, correct and balance the pH and help control acne. In other words, a facial toner exhaustively cleans the skin and assists remove built-up surface dead skin cells. By assisting in cleaning and closing pores, it is particularly beneficial for acne-prone skin. When included in your daily skincare routine and used regularly, it can have a significant effect on the appearance and tightness of your skin pores.
What does toner actually do?n
Benefits of toner to the skin
Toners are most helpful and essential for people with acne-prone, oily skin, or for people who need extra cleansing after wearing makeup or other heavy skin products such as sunscreen. This is not all a toner can do. Below are the benefits of using a toner.n
Rubbing a small amount of toner to a soft cotton ball or pad and softly blotting and wiping your face with it will get rid of excess oil and give you the appearance of smaller pores.n
Toner restores your skin's pH balance
Human skin is naturally acidic, generally with a pH balance of between five and six- on a scale from zero to fourteen. However, that balance can get out of whack after cleansing as a result of the alkaline nature of soap. When this happens, your skin requires to work overtime to return to its normal levels ( and can cause oil); however, using a toner can assist restore this balance faster.

Also, pollution, makeup, oil production, and alcohol can change your skin's state. If your skin is not a balanced pH level, it becomes prone to the cycle of excessive dryness and too much oil production, and even environmental damage.
Toner adds a layer of protection
Toners can assist close pores and tighten cell gaps after cleansing, decreasing the penetration of environmental contaminants and impurities into the skin. It can even protect and get rid of chlorine and minerals present in tap water.

Also, facial toners work to remove environmental toxins like smoke, smog, and other chemicals residues from your skin. This makes your skin appear healthier and brighter, and long-term benefits may include less acne, less severe acne scarring, and fewer wrinkles.
Toner reduces acne formation
Acne can be unsightly and painful. It can also cause facial scarring. It can also lead your skin to appear more oily, dull, and unbalanced. By getting rid of oily buildup, residue, and dead skin cells, facial toners help in decreasing the amount of acne and facial blemishes you may already have and prevents future breakouts.n
Hydration and Nourishmentn
Facial toners offer hydration to your skin, which is significant to maintaining elasticity, moisture, smoothness, and a more youthful appearance. Right skin hydration decreases the signs of aging skin and offers an effective base for the application of facial cosmetics. Most facial toners will provide vitamins and necessarily essential skin nutrients to keep your skin balanced and healthy.
Toners can be used to clean in and around your ears and for decreasing oily deposits on your back, arms, and deposits, where also tends to form.n
Most toners work well with other productsn
Treatments, essence, and moisturizers will be more fully absorbed when used with toner than when the skin is dry. When you have dry skin, products such as masks, serums, and moisturizers will rest von top of this layer of dead skin. Usually, alcohol dries your skin out more, which makes this problem even worse. However, when the skin is hydrated, and at a balanced pH after applying toner, other products can penetrate the skin. You can use toners together with vitamin C, retinol, or expensive anti-aging creams. So as a product can work on your skin, it has to be absorbed.
Most toners work well with other productsn
Most toners are rich in ingredients that hydrate the skin instead of removing the moisture. You can find ingredients such as kelp extract, amino acids, mineral water, grapeseed oil, hyaluronic, and carrot root oil. There are other ways you can calm or fight breakout, but toners will naturally keep bacteria at bay without shifting the skin's pH. Toners are critical after the double cleanse since they get rid of any impurities your cleansers did not remove.
What is the difference between astringent and toner?
The difference between a face toner and stringent is that astringent is usually formulated with solvent alcohols, but toners are available to both forms: with alcohol and alcohol-free. This means that an alcohol-free toner is softening for your skin than an astringent. They can also be used daily to assist finish cleansing your skin. Similar to a facial toner, astringent reduces the appearance of pores. However, alcohol can be very drying. Astringents used daily can be harsh and can excessively dry your skin, especially if you have sensitive skin. Samples of astringents include distilled vinegar, calamine lotion, rubbing alcohol, silver nitrate, and witch hazel. Astringent products are recommended for fungal infections, insect bites, and minor skin irritations.
Do you need to use a toner?
Even though a toner sounds like a surplus to the skincare routine, toning the skin is a good idea. Toner was initially designed to balance the PH of the skin after cleansing and was an essential step since many cleansers strip the skin, leaving it unbalanced. Today, cleansers have upgraded, so they do not require the second step of toner.

Toners too have stepped up, and today there are sold as a way to double cleanse, remove makeup and get rid of excess oil. They also shrink the pores. Modern toners also have additional vitamins, antioxidants like peptides, so you are not hydrating the skin. Acid toners use AHAs to offer gentle exfoliation, to assist deliver other ingredients to the skin and boost hydration to the skin. Therefore, you should consider using toners as good for your skin.
Is toner good for dry skin?
Toners are not suitable for dry skin, is a myth. Toning the skin is the second most essential step of the skincare ritual. A good quality toner not only clears the dead skin cells that linger on your face after cleansing but also neutralizes the skin's PH and assists skincare products sink deeper into your skin. In case you have dry skin, hydrating toner, you need a hydrating face toner.n
Best toners for dry skinn
This product comes in citrus scent. It is hydrating and brightening and contains herbal extracts and rich in antioxidants. This toner also helps to maintain the moisture levels of your skin and preps it to absorb moisture and other skincare products effectively.nnSome of the main advantages of context hydrating toner is that it contains witch hazel, is alcohol-free, paraben-free, sulfate-free, phthalate-free and cruelty-free.n
Dermatologica multi-active toner
You can spray dermatologica whenever your skin feels dry tired and requires to boost hydration. This toner has skin soothing and hydrating ingredients, such as lavender, balm mint, aloe vera, arnica, and cucumber extracts. It makes the skin have a cooling effect. The good thing about this toner is that it has no artificial fragrance, no artificial colors, and vegan. It is also vegan, gluten-free, cruelty-free, paraben-free, and it improves the moisture absorption rate of the skin.
SkinCeuticals LHA Toner For Problematic Skin
SkinCeuticals LHA Toner For Problematic Skin is more suitable for people with extremely dry and flaky skin. It contains gentle skincare acids that get rid of dead cells and make your skin softer. It also moisturizes your skin and aids to balance the pH levels.nnYou may want to try SkinCeuticals LHA Toner For Problematic Skin toner because it has a low pH, contains salicylic acid, it is synthetic fragrance-free and prevents acne and breakouts.n
This toner contains Beta Glucan. The ingredient protects your skin from pollution and other environmental damage. It contains ultra-hydrating ingredients that keep your skin refreshed and brightens it.nnThe cool part about JKossmune Toner is that it contains 100% natural ingredients, it paraben-free, alcohol-free, mineral oil-free, silicon-free, does not contain sulfate or cruelty and has no color additives.n
This hydrating facial toner is especially beneficial for mature and dry skin. Mature skin requires extra hydration boost, and this toner is great for that. It gives your skin antioxidant protection throughout the day and protects it from environmental stressors. Note that while you are using PCA Skin Hydrating Toner, you should use sunscreen while going out in the sun since it contains AHAs. PCA Skin Hydrating Toner does not contain paraben, synthetic dyes, artificial fragrances, mineral oil, or phthalate. It contains natural extracts, and it is not based on animal testing.
Avene Eau Thermale Gentle Toning Lotion
This mild hydrating toner is suitable for dry and sensitive skin. This water-based face toner by Avene has mild emollients that prevent flaking and dry skin. It also contains antioxidants and thermal spring water and keep inflammation at the control and soothe your skin.nAvene Eau Thermale Gentle Toning Lotion does not contain alcohol and oil, but rather it contains silicates. It is also hypoallergenic.n
How to use a face toner?n
Follow the following steps when using a toner:

Step 1: Begin by cleaning your face with a gentle cleanser for sensitive skin or one that is suited for your skin type. Select one free harsh detergents, such as sodium lauryl sulfate and fragrance.

Step 2: Dampen a cotton ball with the alcohol-free toner, and smear it on the face.

Step 3: Allow it to dry

Step 4: If you have oily or combination skin, you can use alcohol-free toner at night or day. For dry skin, it is best to only use it once a day at night time.

Step 5: Always follow with a moisturizer suitable for your skin type. You can also sprinkle the toner in your hands and tap it directly onto your skin instead of dampening a cotton ball.
When should I use a toner?n
Use a toner immediately after cleansing. You can include the facial toner in both day and night skincare routines. To be more specific, you should use a toner after you double cleanse and exfoliate your skin.

A thorough cleanse assists to clear away makeup, grime, and dead skin cells so that the skin-useful ingredients in the toner can get where they need to. Also, you should use a toner no later than a minute after cleansing. It might sound crazy, but it helps. Most molecules infiltrate the skin better when it is wet, so applying active ingredients immediately after cleansing provides better results. After applying toner, you can now proceed with applying your treatment-focused products such as serums, eye cream, and SPF.

Note that you should never use very hot or very cold water to rinse your face before applying a toner. The warm temperature feels more comfortable on the skin and is preferred. Extremes of water temperature can result in broken capillaries. Always pat your skin with a soft cloth and do not rub but gently dab to dry.
When choosing a toner base it on your skin type and particular skin need may it be excess oil, dark spots, wrinkles or even dryness. It is essential to use an alcohol-free facial toner. The other ingredients should be selected based on your skin type.

In case you have large pores, look for a toner with alpha-hydroxy acids such as glycolic acid to get rid of dead cells that accumulate around the pores, making them look prominent. You can try cult-favorite or Neutrogena's pore refining toner.

If your particular skin need for a toner is skin sensitivity look for a toner with skin calming botanicals. You want to use a cleanser and a toner that can have a good impact on your skin. Sensitive skin conditions are reported to dermatologists, with millions of people complaining of various reactions with products they used. Healthy, youthful, and beautiful skin begins with washing your sensitive skin with the right cleanser. It is essential to look for a gentle soap-free cleanser and alcohol-free toner for sensitive skin that will not strip your skin of vital nutrients and natural oils. Toners for sensitive skin should always be alcohol-free. The Klairs Supple Preparation Toner is one of the best for this purpose. It provides relief and deep hydration for sensitive skin types.

If you have acne-prone or oily skin look for salicylic acid-based toner. Or opt for one with witch hazel. Such products will sweep away excess oil without drying out your skin. You can try Blithe's vital treatment essence, milk makeup's matcha, and five energy toner. Also choose an alcohol-free toner with alpha hydroxy acid (AHA). This will make your skin clean and start glowing without flaking. A soft tingle for a few seconds will allow you to know if it contains the right amount of pH of the slight acid mixture. This kind of acid is gentle even for sensitive skin, unlike irritating ingredients such as retinoids.

In case you a dull skin toner with natural exfoliants such as papaya extracts and lactic acid are great for brightening skin. Also, make sure you avoid any toner that has alcohol listed as one of the first five ingredients. You can try to use Son and Park Beauty Water, which is the best selling toner for Soko Glam and doubles as cleansing water. Another toner with whose acids have been reviewed as gentle and yet effective is Make P: rem' radiance Peeling Booster.

In case you have mature skin, look out for toners with antioxidants and hydrating ingredients. Specific hydrating ingredients include hyaluronic acid, glycerine, rose water, Lecithin, Sodium PCA, and Kauvar adds. You can try Caudalie's Beauty Elixir, which is formulated with rose and orange blossom extract to assist hydrate and calm inflamed skin.

For sry skin look for a toner that has fermented yeast-saccharomyces ferment foltrate- and amino acids will deeply hydrate and nourish the skin. You can use Missa clear toner from Soko Glam. For more details about dry skin toner, check the above section.

Salicyclic acid is frequently recommended in a facial toner for acne-prone skin. Nonetheless, this ingredient can be harsh, especially for sensitive skin. Other elements for normal to combination skin may include coenzyme Q10, hyaluronic acid, vitamin C, and glycerin. Even though essential oils and plant extracts have had marketing to aid give them a natural and good feel, these ingredients might result in skin irritations.