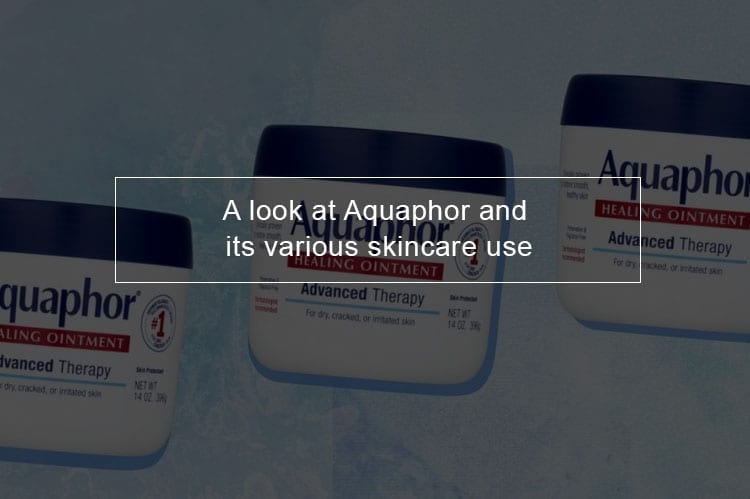 Aquaphor does not clog your pores. It is non-comedogenic, indicating it has no ingredients that clog skin pores, which is helpful for those with acne. The topical skin ointment is meant to be used every day. It is an emollient which works by trapping water in the skin.

Doctors deem Aquaphor safe for all; babies, children, and adults. It is meant for sensitive skin and people with skin conditions such as acne, chafing, and cracking.
Understanding What Aquaphor Is
It is a brand of over-the-counter (OTC) skin care ointments majorly available in the US. It contains 41 percent petrolatum (the active ingredient), and it briefly protects minor cuts, scrapes, and burns; guards and helps relieve chapped or cracked skin and lips and helps protect from the drying effects of wind and cold weather.
What ingredients make up Aquaphor?
Aquaphor is recommended majorly because it is hypoallergenic. Being free of preservatives, perfumes, fragrances, and harsh chemicals make it ideal for all skin types. The active component is petrolatum, which is another name for petroleum jelly. These ingredients include:
An active ingredient and OTC skin protectant, petrolatum forms an occlusive barrier on the skin and helps retain moisture.
A colorless, odorless, light oil, commonly obtained as a highly refined derivative of crude oil.
A wax derived from the purification of the natural wax ozokerite.
A derivative of Lanolin (Wool Wax), a mixture of hydrocarbons that gives emulsifying properties and produces emollient, skin smoothing properties. Lanolin Alcohol is made of Cholesterol, other sterols, and free fatty acids. Moisturizers with Cholesterol and fatty acid mixtures have been shown to be beneficial for the skin.
A moisturizing agent (NMF) and humectant that draws and binds moisture in the outermost layer of the epidermis, aiding in keeping it hydrated. It is usually used as a moisturizing agent in lotions, creams, and most cosmetics. Most glycerin used in products come from animals. If it is natural, it will be labeled as 'plant derived.'
Also known as pro-Vitamin B5, when used topically, has humectant properties and tones the skin.
Acquired from the Chamomile plant, it can have anti-inflammatory, antipruritic and healing effects in-vivo.
What are the contrasts between Aquaphor and Vaseline?
Aquaphor and Vaseline are often confused to be the same thing, but some of their unique and vital differences make them two distinct things. They vary in use as well as composition.The main distinction prominent between Aquaphor and Vaseline is that while both contain Petrolatum, Aquaphor only contains 41% petrolatum whereas vaseline contains 100% petrolatum and is also known as the petrolatum jelly. Another difference between them is the material or ingredients that each of them contains. Aquaphor contains additional ingredients like lanolin, mineral oil, Panthenol, glycerin and others, whereas Vaseline does not contain any other ingredients other than petrolatum.

Now regarding the dissimilarity of both in their usage and their necessity. Aquaphor is used chiefly for skin care and is also useful in resolving minor skin injuries, whereas Vaseline is mainly used as a lubricant and moisturizer. Their use basically makes them two different things in the aspect of skin care.
Aquaphor ointment assists in regulating moisture in the skin by reducing dryness. It reduces healing time and makes a protective shield over the skin, encouraging to lock in moisture. Aquaphor can aid in repairing skin that has been damaged by cosmetic procedures, the weather, sunburn, and acne. Aquaphor is basically petroleum jelly, and the description for petroleum jelly is: "An occlusive factor that reconstructs the barrier layer by holding in water." So, Aquaphor is usually ideal in preventing or reducing the redness caused by a pimple. Contrary to popular opinion, Aquaphor does not clog pores or make one breakout because of its noncomedogenic characteristics. Another wonderful benefit is, it helps to prevent and erase hyperpigmentation.
Uses of Aquaphor in Skincare
In addition to acne, chafing, and dry skin, an ointment with Aquaphor can be used to treat dermatitis, eczema, and psoriasis. It also assists in relieving and soothing minor burns, abrasions, peeling skin, chapped skin, and diaper rash. The ointment is most efficient when it is applied to the skin that has been properly cleaned frequently. Large amounts are safe because Aquaphor doesn't contain any components that would cause irritation to tender skin; however, if you are on antibiotics for any condition, consult your health practitioner before using Aquaphor in large quantities.
Aquaphor is an emollient that traps moisture in the skin. It is also noncomedogenic, which means it has no ingredients that will clog pores. This is helpful for those with acne. The ointment allows the pores to breathe so it is recommended to use generous amounts of it, especially in the winter when acne can flare up. Summer sun and heat dry the skins natural oils that cause acne so Aquaphor help in preventing dryness although these oils are responsible for flare-ups in cold weather.
Other unexpected uses of Aquaphor
Use Aquaphor as directed by the doctor. Some face products need priming before rubbing them on the affected area. Follow all the instructions on the product package. In case you are in doubt about any of the instructions given, ask your physician or pharmacist.

Some Aquaphor products might require to be shaken before use. Check the label of the Aquaphor to see if you need to shake the bottle before application. Rub to the affected region of the skin as required or as instructed on the label or by your physician. How frequent you apply the ointment varies with the product and the skin condition. To treat the dry face, you will require to wash your face before using it. At the same time if you are treating dry hands, you will have to apply it every time you clean your hands.

If you are Aquaphor to reduce diaper rash signs, clean the diaper region well before rubbing the ointment and let the area dry before rubbing the product. If you are using Aquaphor ointment to treat radiation skin burns, check with radiation doctor to know if the brand you are using is suitable for radiation therapy.

Follow all the instructions on the label for proper use. Apply to the ointment to skin only. Avoid sensitive regions such as your eyes, inside your mouth or nose, and the vaginal or groin area, not less the label or your doctor instructs you otherwise. Check the label for directions about any regions or types of skin where you should not apply the product such as on the face, any regions of broken, irritated, chapped cut, scraped area, or on a currently shaved area of the skin. Check with your physician or pharmacist for more details.

Use this ointment regularly to get the most benefit from it. Most moisturizers require water to work well. Rub the product after bathing or showering while the skin is still damp. For very dry skin, your doctor may instruct you to soak the area before using the product. Long, hot, or frequent bathing or washing can worsen dry skin. If your problem persists or worsens, or if you think you may have a severe medical problem, seek immediate medical attention.
How to Use Aquaphor Topical Ointment?
To get smooth lips. Not only can you apply a coat on your lips to keep them soft and kissable, but you can also use this ointment to exfoliate your lips. The combination of the two will remove dry, flaky skin, allowing you to layer on your lipstick flawlessly.

To prevent fine lines. Keeping your skin well hydrated will help reduce the number of fine lines and wrinkles you'll get since a wrinkle is a crease that occurs from a repetitive motion that is made like smile lines from smiling. So, if your skin is moisturized well when you're younger, you'll notice fewer wrinkles when you're older.

To heal mild eczema patches. By removing the bacteria, dead cells, and dirt out of your skin's pores, the moisturizers and healing constituents in Aquaphor can work deeper to help clear up eczema breakouts.

To help get rid of the flaky side effects of using Retin-A. This vitamin A derivative that is used in anti-aging products, since it increases your skin's cell turnover, can often turn you into a lizard woman because of the drying aspect of this topical cream. So, it's crucial to counteract the dehydrating factor with Aquaphor's hydrating elements, such as glycerin.

To help you remove makeup. Whether you made an error with your winged liner or you just needed to touch it up, or need to wipe off previously applied makeup the next morning, using a little Aquaphor on your face before gently running a tissue or cotton swab over your makeup helps to remove it with ease.

To turn a powder blush or eyeshadow into a creamy formula. It's simple, just dip your brush into your powder blush or eyeshadow and then mix it with a little Aquaphor and voila!

To add some luminosity to your skin. Want a dewier appearance? Run a dot of it over your cheekbones or brow to highlight them subtly.

To give TLC to your cuticles. You do not need to have a cuticle oil handy, this ointment doubles as your nail's BFF if dry cuticles crop up. Simply work it into your nails.

To help you get a smooth faux glow. Self-tanner is not fool-proof, so to make sure you do not walk around with orange knuckles, elbows, knees, or feet; basically, anywhere your skin might be drier preemptively moisturize those areas so that they do not pull more color and leave you uneven by applying some Aquaphor.

To conceal split ends in your hair. You cannot fix a split end unless you cut it off, but you can hide them temporarily by applying Aquaphor between your fingertips, and then rubbing the excess through the ends of your hair to aid the dull, dry, ragged ends to lay smooth and flat.

To prevent chaffing. If you're a runner or you fall victim to chaffing, spread a little bit of Aquaphor in between your thighs and proceed with your running without any redness and irritation.
There is no proof of the efficacy of Aquaphor, and most over-the-counter drugs are not evaluated by the FDA. But, petrolatum, the active ingredient in Aquaphor, has been used for more over a century and has shown efficacy as a moisturizer in remedying dry, cracked, irritated skin.
Precautions to be taken while using Aquaphor
Aquaphor is not meant for the treatment of hormonal causes of acne or for bacterial infections that are connected with acne. It will not eliminate acne scars; however, with repeated use, it may reduce redness associated with scarring.
Some ingredients, such as fragrances and preservatives, may make you more sensitive to the ultra-violet rays. Check the label for any precautions or ask your physician or pharmacist if you require to take any special care when in the sun. Your physician or pharmacist may recommend that you limit your time in the sun, avoid sunlamps, tanning booths, and use sunscreen and wear protective clothing when outdoors. Tell your dermatologist right away if you get sunburned or have skin redness.
Warning and Side Effects of using Aquaphor
Almost all emollients can be used safely and effectively with no side effects. However, burning, stinging, redness, or irritation may occur. However, If your doctor has prescribed this ointment, remember that he or she has judged that the advantages to you are higher than the risk of side effects. Many people using this medication do not have serious side effects.
Do not apply it on deep wounds or open sores. Consult a health practitioner if you have any kind of swelling, oozing, bleeding or warmth in the areas where you want to apply Aquaphor. Avoid this skin treatment if you are allergic to it or if you get hives, some swelling or constriction in your throat, tongue or lips. Seek urgent medical assistance if you experience difficulty breathing, severe pain, stinging, burning or redness while using Aquaphor. Pregnant and nursing mothers shouldn't use Aquaphor unless under the supervision of their health practitioners.